The Community Rejuvenation Project is alway on the look for innovative new processes for mural-making and powerful new methods to express our message. Century's new glass mural is an example of a creative concept that incorporates techniques that CRP has been studying such as layering. As we continue to research and develop our own approaches, we want to bring you the other fresh ideas that artists are applying!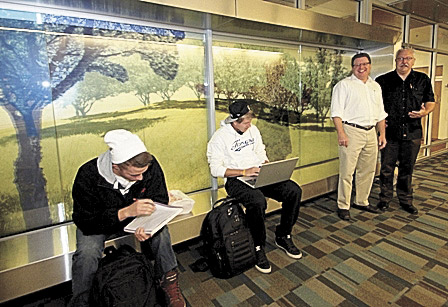 Century College instructors Neil Johnston and John Kothera designed the new glass murals that provide privacy for students in the computer lab and a visual treat for hallway pedestrians.
The murals — one 50 feet long and one 20 feet long — are composed of several layers of glass that have been imprinted with a panoramic pastoral photograph of the East Campus crabapple trees enhanced with the silhouettes of college President Ron Anderson and Vice President Mike Bruner.
The panes are electrified so that they change from frosted to clear when a small voltage is applied. Every five seconds, in a sequence from left to right, the panes subtly flick on, and in just over a minute, the rotation is complete.
Johnston and Kothera said that as far as they know, there is no other art glass mural anywhere that is comparable to what they have created at Century.